Your Inspection is Our Priority!
High Quality West Michigan Home Inspections

More Than Just an Inspection
Your safety, confidence, and comfort are our highest priorities, and our thorough and comprehensive home inspections ensure you and your loved ones can be happy and healthy for years to come!

Thorough, Readable Reports
Our reports include clear annotations, a clean layout, and a Repair Request Builder for our real estate agents. We provide same day reports! 

A home is a massive investment. We offer fair pricing for premium home inspection services.
You can put our outstanding reputation for service and reliability to work for you. By using A Closer Look Home Inspection, you benefit from experienced inspectors that deliver reports that meet or exceed national standards. Your presence is strongly encouraged during the inspection. By being present at the inspection we can familiarize you with the home and explain things to you as we move through the house.
A Closer Look Home Inspection is bound to a strict code of ethics, this ensures quality service while providing important protections. For example, as your inspector we must:
Work Exclusively for you, the Customer

Follow Nationally Accepted Standards of Practice
 A Closer Look Home Inspection is trained to be familiar with a wide variety of situations and we believe that consumers have the right to expect the highest standards of thoroughness, fairness and effectiveness from their home inspector. All of the inspection reports must be authentic and stand up to critical examination. A Closer Look Home Inspection continues to build its reputation one inspection at a time to ensure you get the quality service you expect.
If you're planning on buying or selling a home, then hiring a home inspector could save you thousands of dollars. It will also help you understand the property you want to buy and the possible defects. For sellers, it can provide insight into a home to know what to expect and can make repairs before listing a property.
11th Month Warranty Inspection
We recommend scheduling this inspection service before the builder's 1-year warranty expires on your new home. Did you know that it is Michigan law for builders to provide a one year warranty? We'll carefully look over the readily accessible areas of the property in an effort to uncover potential issues that you may not have to pay for in full, depending on the exact language the builders warranty.
New Construction Inspections
When this inspection service is conducted before the builder's final walkthrough of new construction, it can have major benefits for prospective homebuyers. Not even new homes are perfect! Having an inspection on a new build allows our inspectors to provide a punch-list of items either missed or not yet completed during the building process. 
Annual Maintenance Inspection
A Home Maintenance Inspection is the perfect way for homeowners to keep track of a home's maintenance needs so that the property can stay in good condition for as long as you choose to live there. We'll thoroughly investigate each readily accessible area of the home, carefully documenting our findings so that we can make the appropriate maintenance recommendations. These inspections will help you keep your home in tip-top shape!
This inspection service will determine if your prospective home has suffered damage from termites or other wood-destroying organisms. If an ongoing infestation is discovered we can connect you with great local treatment companies to look into your treatment options. We also use all the proper government reporting requirements and can help you with your VA pest inspections! 
Radon Testing is highly recommended for EVERY home to determine whether or not the radon levels in your prospective home exceed safe levels. Radon gas occurs naturally, rising into homes through small structural gaps, drains, floor penetrations, etc—but given the fact that the gas is tasteless, odorless and invisible, radon can only be detected through testing. Radon is a well-known carcinogen that is the second leading cause of lung cancer in the United States after tobacco use, so it's critical to have a home tested for your own protection.
MOLD SAMPLING & INDOOR AIR QUALITY TESTING
Mold and certain airborne particulates can cause damage to your home and be detrimental to your health, as well as the health of your loved ones. We can provide Mold Sampling and Indoor Air Quality Testing to check the home for the presence of these airborne mold and allergens that are not visible.
There are many misconceptions about mold and testing for the presence of mold. You will not always enter a home that has green or black spots from a roof leak or foundation leak but there could still be mold present! Mold can form for many reason including, old dirty carpet, dirty ductwork, high moisture or condensation in the home, plumbing leaks, etc.
We do air quality tests on a weekly basis that come back with elevated levels of mold in the home without any visual mold being found. 
Get to know the quality of air you and your family are breathing by having us do an indoor air quality test!
Buying or selling a home can be a stressful experience, but we're here to ensure you know what to expect during your home inspection.
Whether you are buying, selling, or maintaining your home, A Closer Look Home Inspection provides professional and quality service from the moment you call us. Our trained home inspectors will walk through your home with you and teach you as much as you want to learn. After we walk through the home together, your inspector will explain the general condition of the home and systems to you and your agent. We will talk through any major issues that need to be addressed sooner rather than later. We will also mention the items you want to keep an eye on for deferred maintenance. All of this will be detailed in our easy-to-read Spectora report, which will be delivered in HTML and/or PDF format. From that report, you'll be able to see the items we discussed, with images for reference.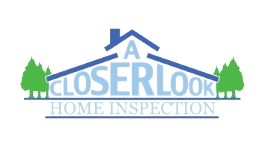 We are a respected local home inspection company with a long list of happy clients. Our focus is not only exceeding your expectations, but also educating you about your new home.